There were 1 posts tagged: Dos Equis
September 21st, 2021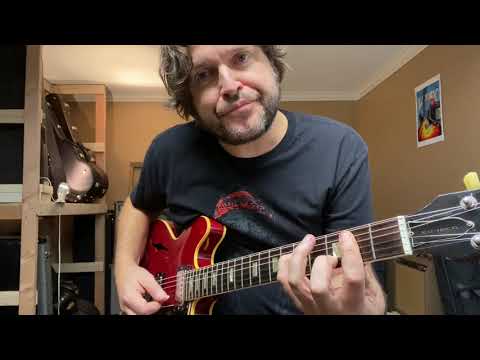 Chapters
00:00
- Dressed To Kill Myself playing
02:26
- Hello, friends! / Thanks
03:18
- Guthrie Trapp intro
04:02
- Dressed To Kill Myself lesson / Chords
05:34
- B-Section
06:19
- Beatiful solo playing
07:30
- Uncle Larry's Garage Sale / Gibson '65 335
08:20
- Guthrie Trapp playing
Notes
Hello class…in today's presentation…a walk through the chords of the Trip The Witch song "Dressed To Kill Myself".
Also , a couple videos of my dear old friend Guthrie Trapp absolutely destroying my '38 OOO-18 and my '37 AJ.
Also, the lovely '65 Gibson 335 in the video is available in this episode of Uncle Larry's garage sale. This guitar is ABSOLUTELY ready to be someone's main squeeze….beautiful refret and it plays like absolute butter, dead in tune. Nice fuckin guitar in the original case. Has some Bigsby holes and original tuners reinstalled after some others were on it…best part about this guitar is it has the "tweener" nut width…it's not the classic wide pre '65 1 11/16" nut width, but it's not that super skinny late 60's feel either…its a "tweener"
9500 plus shipping
Email me at tombukovac@gmail.com if you need it
Stay tuned for super comfy Trip The Witch t shirts!