May 12th, 2023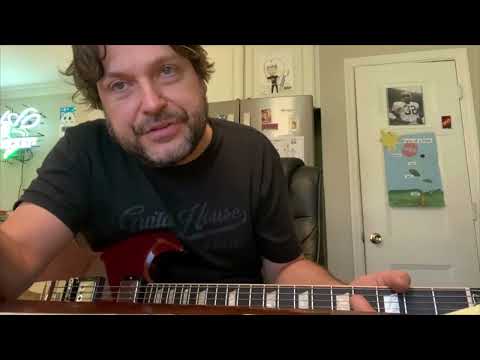 Chapters
00:00
- Introduction
00:38
- Son, Marshall's new SG
01:00
- "Issues" on the newer Gibson guitars / Sticky neck
02:32
- Greg Voros shows us how to un-sticky a neck
Notes
Greg Voros gives us some idea how to reduce that sticky fly paper feeling on the back of the neck of your new Gibson.
May 11th, 2023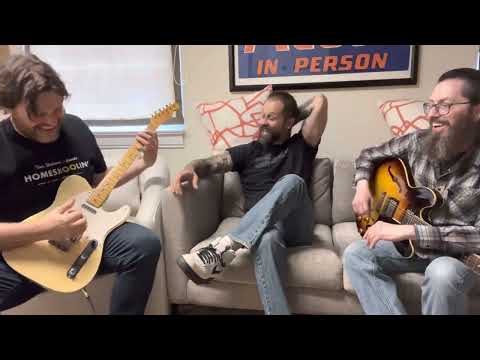 Chapters
00:00
- Intro
01:25
- Pet peeves when visiting Gruhn's / Playing guitars in house
04:18
- Hesitant repair vs. knowledgeable repair (Explaining and educating)
06:59
- Heirloom guitars that aren't expensive
08:00
- George Gruhn and his business
11:35
- '53 Telecaster / Cool factor vs collector's and playing guitars
14:40
- Back to the Tele
17:00
- Stickiness of a neck and lacquer
18:00
- Gibson ES-335 / "Electric Spanish" (ES) naming convention
19:25
- Playing Gibson
24:00
- 1931 OM Shade Top acoustic / Playing
27:40
- Checking on binding indicates refinish
29:31
- 1966 Epiphone Caiola / Playing
40:00
- 1965 Gibson Melody Maker D
42:20
- Gibson Melody Maker
43:30
- Joan Jett and I Love Rock 'N Roll cover (Arrows)
45:00
- 1963 Gibson Special (Lefty) / Playing upside down
49:00
- 1958 Fender Esquire (Lefty) / Playing upside down
54:10
- Back to the Gibson ES-335 / Prices
60:24
- Trivia: Pickup rings
62:25
- Closing statements too soon
67:12
- 1963 Gibson Firebird / Playing
Notes
The dynamic trio pulls 7 killer guitars from the current Gruhn's inventory and takes them for a ride.
Starring:
Greg Voros
Corey Terrell
Uncle Larry
May 9th, 2023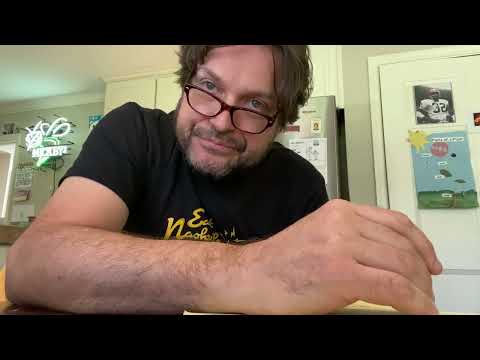 Chapters
00:00
- Jamming on some strings
01:13
- Demonstration of ashtray (faraday cage) on a guitar (with and without)
02:00
- Hello / Box of Rock rehousing / Greg Voros coffee
03:08
- Speed playing around
03:28
- Lesson: "The Viking Scale"
04:12
- "Original Ace Hendrix Strap"
04:35
- '54 Esquire / Playing
05:45
- Ashtray cover back on comparison
05:58
- Pedals (Simulate ashtray cover / Snare rattle)
06:44
- Joe Glaser & Music City Bridge cool idea
07:15
- Tele bridge pickup in guitar demo
08:16
- Steel guitar playing / Waylon Jennings
09:13
- "Learn how to fix a Wurlitzer"
09:30
- VCB (Viewer Comment Bin) / Ebo comedic timing
10:00
- Grammar helping a viewer / Session players humor and getting serious
11:45
- Bohemian Grove
13:22
- Double slide / Learning new tricks
14:17
- Lesson: New trick / Doubling track
16:37
- The Gear Page and the ODR-1 / Social Media is not cool
Notes
Uncle Larry filets and pan fries the VCB and plunks around on a nice old slab of golden age Fullerton Fender.
April 8th, 2023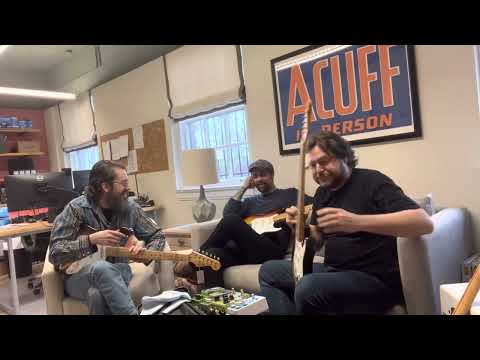 Chapters
00:00
- Chatting with in-depth views at Gruhn's with Fender Stratocasters
03:00
- Introduction to Stratocasters
03:50
- Maple neck Strats opinions / Tom's opinion
06:00
- Corey's opinion
07:22
- Greg's opinion
09:00
- Fretboard repair standpoint
13:00
- Comparison of 4 Strats
13:50
- '57 Strat look / Tone control on bridge pickup
16:20
- '57 Strat playing
18:10
- Early '58 Strat playing
20:45
- Late '58 Strat playing
23:14
- '59 Strat playing / Activator switch
27:50
- Thoughts / Favorites
30:45
- Prices
31:45
- Favorites / COVID price effect / Left-handed
39:50
- '63 Strat with rosewood fretboard comparison with '57
40:57
- '63 Strat playing / Back and forth
45:40
- Thoughts?
50:20
- Pickup shootout
52:32
- Sounds - pickups about same / Neck sizes / Truss rod route
57:00
- Lead sounds
61:20
- George Gruhn and electric guitars
Notes
As promised, the first installment of what will hopefully be monthly collaboration videos between Uncle Larry and the legendary Gruhn Guitars store in downtown Nashville TN.
This amazing store has been around since 1970.
Filmed on Thursday April 6th 2023
Starring:
Greg Voros
Corey Terrell
George Gruhn
Uncle Larry
and five bitchin' old Fender Stratocasters, all with "field replaceable necks"….just like the 50's Fender catalogs claimed.
January 9th, 2023
Chapters
00:00
- Reflective playing
04:50
- Morph into Sting - Bring on the Night / Howya doing?
06:00
- The greatest cover songs of all time
07:00
- Lesson: Bring on the Night / Vince Gill
08:20
- NFL cards
09:46
- '54 Esquire from Greg Voros / Playing / Top hat flying off
13:53
- Thanks
14:55
- Lesson: Harmonics
15:42
- Unknown riff from the '80s
16:36
- Lesson: Cars - Since I Held You / Solo
19:41
- The Cars solos story / Band person vs live improv / Test of time
Notes
Uncle Larry takes a ride on a slightly out of tune chopped 54 esquire and reflects on some childhood guitar store memories.....and childhood memories of watching Letterman.
Even the thumbnail pic shows Larry in a very "reflective type" mood.
In truth, sometimes (like tonight for example) i don't even bother to tune the guitar before i do these vids....because i usually spend all day at my "day job" caring WAY too much about tuning...so when i get home at night, and it's just me all alone with my deep Cleveland thoughts it can be very stimulating for me to be a bit out of tune.
It's very freeing, sonically speaking, it's kinda like the emotional equivalent of walking around the house in your underwear.
I hope you guys don't mind.
There is one guy that watches the show that can't help but make a comment every time he hears five seconds of something out of tune on my totally unedited free form stream of conscious videos. I think he's one of those unfortunate dudes who has to tune/edit/pocket shitty vocals on pro tools all day for bad local bands.
He probably also has a hard time enjoying led zeppelin and beatles records.
I've noticed that some people seem to feel really special when they can point out things that are "out of tune"....sometimes i think they think they are the only people that can "hear" it.
At any rate, thanks for watching guys
If you feel led:
the PayPal tip jar is always there...lurking...
tombukovac@gmail.com
so is that venmo one...
@Tom-Bukovac-1
January 6th, 2023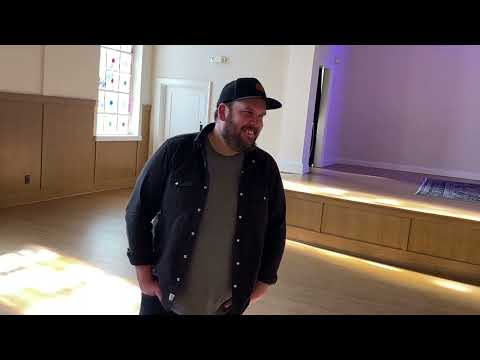 Chapters
00:00
- Guitar emersion
04:08
- Playing the '58
Notes
Yes, the planning is still in it's infantile stages…but i can tell you that there is nothing short of "a movement" underfoot here in the windy streets of Nashville Tennessee.
There is an amazing new venue in east nashville that is built in a totally renovated old church called "Riverside Revival".
It is being run by some dear friends and kindred musical spirits.
Among them Nick "The Chef" Govrik….my old band mate from Trigger Hippy.
There is definitely gonna be some crazy guitar related action taking place in this building in the not so distant future.
There is even talk of a full on "Nashville Guitar Immersion" program where select people can buy a first class ticket to the full hang and inside behind the scenes access to the community of players here.
We are not sure exactly what it is gonna be yet, but you can trust me on this one thing….Nicky G knows how to throw a fuckin bad ass party.
There is no doubt that whatever ends up happening is gonna be deeeee-luxe.
There is talk of a gig in late February to kick things off and get people acquainted with the venue….a gig with myself, Guthrie Trapp, Jack Ruch, dearest Jedd Hughes and some other guests….and we will working in some master class guitar repair workshops with Greg Voros and Gruhn Guitars.
Stay tuned for further details friends.
November 23rd, 2022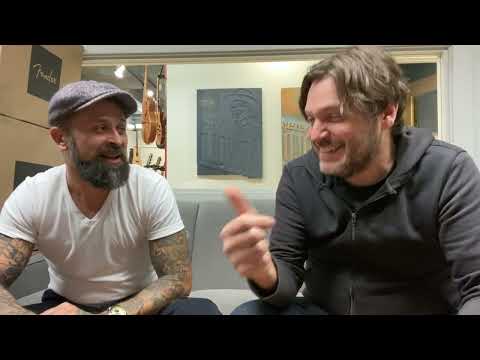 Chapters
00:00
- Greg Voros / Rex Brown bass / Pantera
03:10
- Covid and vintage guitar market
05:00
- YouTube and content
07:45
- Gruhns restructuring
11:10
- Greg Multiple Sclerosis health issues
16:32
- Coffee and non-profit
56:30
- Pantera Trivia Question
Notes
I know it's a little long, but you're gonna wanna watch this one all the way through kids….this one is special.

Pertinent links:
https://www.acoustic.coffee
https://guitars.com
September 17th, 2022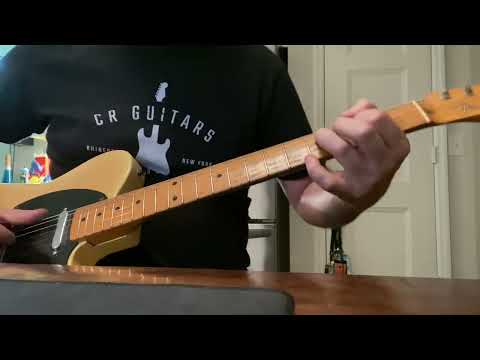 Chapters
00:00
- Playing the chopper
Notes
Hello friends…a while back my dear dear friend sweet Greggy Voros gifted me a wonderful old 54 Esquire chopper that i have been slowly but surely trying to turn into the monster that i absolutely know it can be.

From the start this guitar had a hell of a lot going for it (super lightweight and the neck is to die for) but it had a long way to go. It started with refretting, then trying to find the right pickups…i ended up finding some great pickups, an original bridge pickup from a 1960 tele custom was a nice addition.

The original bridge saddles were driving me insane, so i just had my dear old friend Phil Crabtree install a set of Callaham compensated steel saddles. I picked it up from him today, Philly works alongside Tom Murphy at the Gibson custom shop. He is one of the sweetest kindest souls that has ever walked this earth. Thats him pictured at the end of this video.

Lord did these saddles help a lot…a MAJOR step in the right direction. The intonation is sooo good now, the string spacing is perfect, and the thing is just ringing beautifully acoustically, great sustain.

I swear the older i get i am focusing more and more on what i have always called the "point of contact" in guitars.

The purity and trueness of the way fretted and open notes pop out of a guitar, whether its electric or acoustic. The way the notes ring and sustain without an amp.

It's the first thing i look at when i am checking out any guitar I haven't seen before. It's amazing how many guitars there are out there, even "high end" instruments, that just have terrible "point of contact".

Strangled sounding dead notes all over the guitar, which could be caused by many things….a shitty bridge, bad fretwork, a fingerboard that is separating slightly from the neck, a pinched nut slot, and the worst offender, just plain dead wood.
August 26th, 2022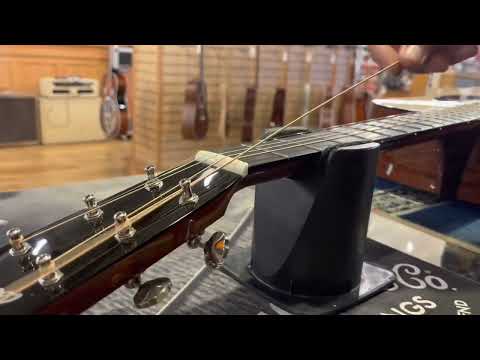 Chapters
00:00
- How to string a guitar
Notes
Well kids, i said i was done with all this horseshit, but then THIS comment came in on the "boys in the back room" video.
"Show us how it's done then. Lots of talk no walk"
Ok f**kface here ya go…
August 25th, 2022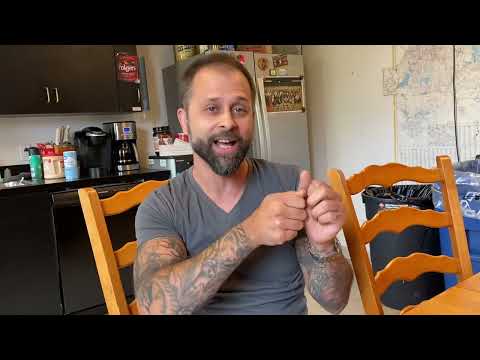 Chapters
00:00
- Locking strings...just don't
Notes
Hey kids…the whole "right way to put strings on a guitar" thing has been a hot topic of debate on the Homeskoolin' channel.
I thought i would run it by the boys in the back room of the repair department of the most venerable, respected vintage guitar shop in North America…Gruhn Guitars in Nashville tn….here's what they said…thought you guys might find it interesting. starring....
1) Greg Voros
2) Tony Nagy
3) Lin Crowson
May 30th, 2022
Chapters
00:00
- Goulash story
Notes
Sid from Queens recalls the time when he ate goulash as a kid...also starring sweet Greggy Voros from Queens, making a fine Hungarian meal
TAGS
March 19th, 2022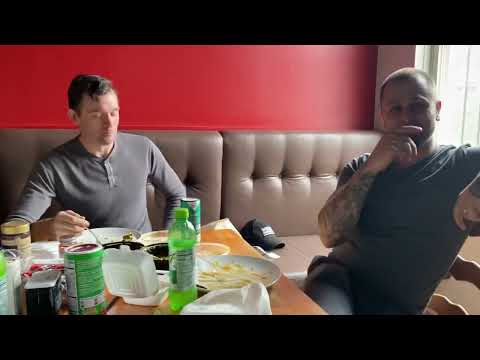 Chapters
00:00
- Gruhn Guitars Inc.
00:37
- Sprinkler system amp wrap
02:28
- George's overrated guitar? Gibson SG
08:36
- Greg's overrated guitar? Rickenbacker
09:46
- Les Paul and the SG
10:27
- Discovery of old guitars / Michael Bloomfield influence
13:24
- Tony Iommi's weren't Gibsons / Redesigning the SG
15:15
- Bloomfield influence cont.
16:56
- Les Paul
19:10
- Unbelievable guitars
25:10
- "Store's best customer" / Collection / Inspiration
28:41
- What guitar would you love to have?
31:39
- Guitar price "bubble"? / New generation of guitar buyers
36:05
- Heavy Metal / Women buyers / Inflation
38:18
- Guitar is a physical art you can feel, hear, and is alive
41:00
- Optimist vs. pessimist truth
42:42
- "Hot tip" of what is going to be valueable?
43:49
- 70's to present guitars
44:07
- 335 vs. Bursts prices
46:33
- "If there were a guitar...would be buying." / Guitars bought
47:49
- Not vintage guitar?
50:43
- Guitar to turn to crap? / Difficulty in supply / Bolt-on copies / Luthier
53:23
- New instruments from new builders and opinions
54:30
- 2 names of builders that are good? Hugh Hansen, Paul Newson
57:19
- What are some of the things missing from builders who are missing the point?
61:52
- Best craftsmanship in guitar making?
Notes
Maaaaaaaaaany things to think about…..
Starring:
George Gruhn
Greggy Voros
Joel Watrous
David Kreisel
and some sweet woman who's name we don't know (Cheryl)
Filmed on 3/19/22 on location in the infamous break room of the greatest guitar store in the world.
January 28th, 2022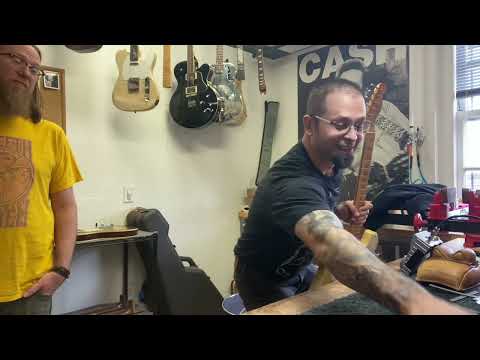 Chapters
00:00
- Guitar setup expertise
00:38
- "3/64ths"
01:01
- "Raised the action"
02:05
- Step 1...
02:49
- Mathematics of frets
03:32
- Playing the Tele
03:58
- Nut slots and action
04:43
- "Choke"
05:25
- Nut and bridge height mathematics
06:18
- Choking, relief, radius
08:11
- Width / Height of frets
09:26
- Steps from here
11:03
- Fender go to steel? '54 / Trivia
14:34
- "Bend the piss out of the high E"
15:18
- Playing it again / Explanation
16:15
- Continue setup
17:25
- Creasing and stretching the strings
19:34
- '60 Tele Custom
20:45
- Tuning with fingers and playing position
23:00
- Playing it fully set up, acoustically / Tuning with chords
25:17
- Fret end dressing
29:45
- "Worst Nightmare?"
32:50
- Back to fret softening / Fret end jewelry
38:10
- Make your own glue
39:00
- Leather stropping block and chrome polish
42:50
- File and gouging the wood
44:09
- Playing it fully polished
Notes
This one is pretty inside friends….
it could be considered long and boring for some, i totally get that.
This one is actually aimed at those of you out there who REALLY wanna know the inside shit on how that last little one percentile of top tier professional guitar set up and guitar physics REALLY works.
Did you ever notice that any time you see a person doing anything at the highest level it could ever possibly be done at, there is one common denominator you will find every time…..PASSION…..
I mean TRUE passion and a deep love of the craft. There is also deep respect for doing things the RIGHT way.
Greg Voros, head of the repair department at Gruhn Guitars in Nashville…the boy is a true artist, and a dear dear friend of your drunk old uncle….i cannot tell you how much i respect this dude…this video should give you a real good idea why.
Greg is joined about halfway through this video by Lin Crowson….another Gruhns employee who has freakish expert level knowledge of authenticating and repairing old guitars.
Hope you enjoy folks.